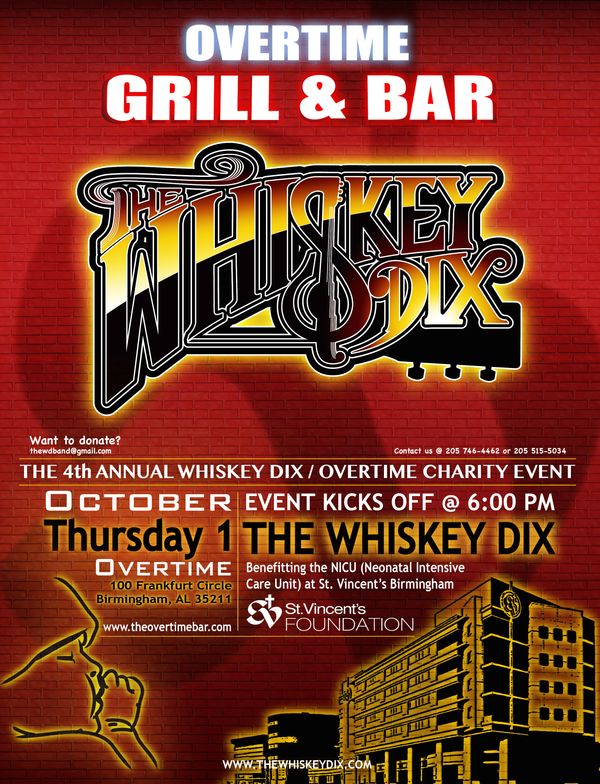 The Whiskey Dix / Overtime Charity Event
Benefit Concert for St. Vincent's Birmingham NICU

After spending time at St. Vincent's Birmingham's NICU during his twin sons' first few days of life, Greg Brasher wanted to show his appreciation for the excellent care that his family received. With his band member, Jason Armstrong, Greg contacted St. Vincent's Foundation and asked if they could hold a charity and donate the proceeds to the NICU, a request the Foundation was happy to grant. Greg and Jason partnered with Overtime Bar and Grill to hold a concert on April 28, raising $2,000 for St. Vincent's. The event was such a success that the band and Overtime hope to make it an annual concert for the NICU.
Greg, Jason and Overtime's Paul Shunnarah visited with staff of St. Vincent's Birmingham's NICU to present their gift to be used toward the purchase of a new Giraffe Bed.

Please come out and support The 2nd Annual Whiskey Dix / Overtime Charity Event
We were able to raise just over $1300 for the St. Vincent's Foundation. Thank all of you so much for donating and coming out to the show. We look forward to seeing you next year and raising even more money for this great cause.


The Whiskey Dix